Judith Smith | Judge Denver County Courtroom 3C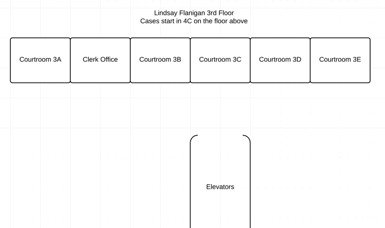 Sep 19, 2018
DENVER – Mayor Michael B. Hancock today announced the appointment of Assistant U.S. Attorney Judith Smith to the Denver County Court. The appointment will fill the vacancy created by the retirement of Judge Dianne Briscoe.
"We are privileged to have a judge of Judith's caliber and sterling reputation on the Denver County Court," Mayor Hancock said.  "Her reputation as a fair and honest prosecutor precedes her, but it is her passion for service to our community that elevated her as an exceptional candidate for this appointment.  There is no doubt in my mind that she will serve the people of Denver well in this new role as a Denver County Court Judge."
Smith, an Assistant U.S. Attorney (AUSA) for the District of Colorado, currently serves as the Chief of Cybercrime and National Security Section for the District. As chief of the section, she has prosecuted and supervised cases involving cybercrime, national security, terrorism, intellectual property crime, counterproliferation crime, child exploitation, child sexual assault, child trafficking, murder, serious assault, hate crime and cases involving prison inmates and gangs. Her work with the section and prosecutorial record as an AUSA has earned Smith the FBI's Prosecutor of the Year award in 2017, the National Director's Award for Superior Performance as an AUSA in 2014 and the U.S. Attorney's Award for Excellence in 2012.
"It's an honor to be afforded this opportunity, and I'm thankful to Mayor Hancock for entrusting me with this chance to serve my city in this capacity," Smith said. "The course of my legal career has instilled in me the importance of judicial temperament, commitment to public service, fairness and mentorship, and I very much look forward to serving my community as a Judge for the Denver County Court."
Before joining Colorado's U.S. Attorney's office, Smith taught legal research and writing, as well as appellate advocacy as an Associate of Law at Columbia Law School from 2001-2003. From 2000-2001, Smith served as a Deputy District Attorney for the Denver District Attorney's Office, trying both criminal and rehabilitation aspects of cases alongside a broad range of public entities and servants for the office's Juvenile Division. Prior to her roles in the public sector and academia, Smith was an associate at Gibson, Dunn, & Crutcher in Denver from 1997-2000, trying over a dozen cases before the Denver County Court during that time.
With a passion for the law, trial work and public service, Smith is an active member of the Denver and local legal community. A member of the Colorado Women's, Colorado Hispanic, Colorado LGBT and Sam Cary bar associations, she has served on the Board of Governors for the Denver Bar Association, as a Member of the Faculty of Federal Advocates and as an Advisory Board Member for the Internet Safety Foundation. Smith also provides volunteer and participant support to many local organizations and causes, including the Colorado Lawyers Committee Mock Trial Program to combat hate crime, the Colorado Organization for Victim Assistance, Freedom Service Dogs and the JFK Partners for Autism research and Collaborative for Autism and Neurodevelopmental Disabilities Options.
Denver County DUI Courts
Why You Need Our DUI Professionals to Represent You In This Court
Every judge who presides over DUI cases in this county conducts their courtroom differently from any other judge. Every one has slightly different procedures, habits and tendencies in the way they interact with the District Attorneys, defendants and attorneys.
So it's critical to the successful defense of your case to hire a DUI expert who not only specializes in DUI defense, but who has extensive experience with the people in the particular courtroom where your case will be held to help you navigate though the system.


Jim Forslund and Gary Pareja have been representing clients in this courtroom 3C Denver for years. They have that unique advantage you are looking for to obtain the best possible outcome for your unique set of circumstances in courtroom 3C if this is where your case is assigned and will be heard.