Skip Content
What's My Colorado DUI Going to Cost?
You may think that pleading out is going to save you money over the cost of hiring an attorney and fighting the charge.
Better think again.
This is a table showing the costs of a DUI conviction here in Colorado: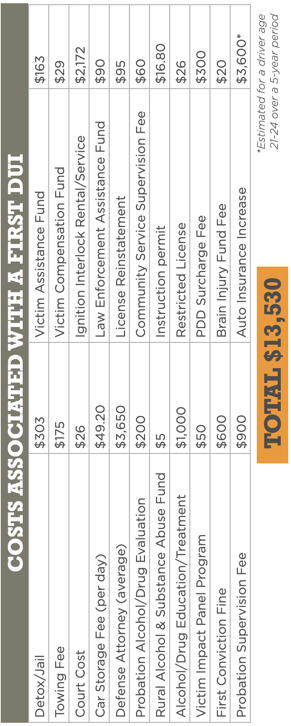 If the attorney costs noted are just for pleading out (which I think they are), can you afford not to fight the charge, even if the attorney costs to fight may be higher? (By the way, I don't charge nearly that much if you decide to plead out.)
Because, you see, even without attorney costs, you're still looking at up to $7,775.00 in non-attorney costs. And you'll always have the DUI conviction on your record. And this could seriously hurt you now and in the future, as I've already touched upon.
We focus on cases in Adams, Arapahoe, Boulder, Clear Creek, Denver, Douglas, El Paso, Gilpin, Jefferson, Larimer, Lincoln, Summit amp; Weld counties. We also appear in Courts between Eagle amp; Burlington.
How Much Does a DUI Cost?
It's difficult to tell how much a DUI ticket will cost you because several factors need to be considered. It will depend on the state and city you get pulled over in, how much you've drunk, your age, and other factors.

If you want an estimate, the total DUI ticket cost may reach nearly $20,000, depending on the severity of the offense. In general, a DUI may cost you anywhere between $10,000 to $30,000 when you add up all the fees and fines.
How Much Are Fees and Fines?
You'll face a wide range of penalties if you're convicted for drunk driving, which will mainly depend on the strictness of the DUI laws in your state. The penalties for a DUI vary considerably, taking into account the number of prior convictions and your blood alcohol concentration.
49 out of 50 states have set the blood alcohol concentration (BAC) limit at 0.08%. Utah has the BAC limit of 0.05%.
The primary DUI costs are related to hiring an attorney and increased insurance premiums. In addition, there are many fees involved.
Now, let's look in detail at the costs that contribute to the total for a first-offense DUI:
Attorney's fees.
If it's your first offense, you can show up for court and pay your fine in person without an attorney. However, it's better to hire one to help you deal with the situation when you may face felony charges or have multiple offenses that could put you behind bars for several years. How much does a lawyer for DUI cost? Depending on factors like experience, reputation, location, ability, and the case, you can end up paying nearly $10,000 in attorney fees. Court-ordered fines. There is a court fee every time a person comes before the court. For first-time DUI offenders, these fees range between $1000–$1500.
Increased car insurance premiums.
Your car insurance premiums will rise substantially after a DUI. The average increase may be anywhere between 20% to 25% for a drunk driving conviction. You may also have a difficult time finding another auto insurance policy for some time. Additionally, you may lose your home and auto insurance discounts.
Traffic school and substance abuse education courses.
In some states, you will be required to join a traffic school and enroll in substance abuse education courses. How much are DUI classes? They can cost you between $1,000 to $3,000 in fees.

A DUI driver will also need to take a state-certified driver intervention program, which costs nearly $300. If you can't afford it, you will need to serve a three-day sentence in jail.
Department of Motor Vehicles (DMV) fees
. In some states, you will automatically lose your driver's license if you are convicted of drunk driving. For example, you can lose your driver's license for nine months if you're convicted in Colorado, but you won't lose your license for a first-time DUI in Pennsylvania.

If you lose your license, you will need to pay a reinstatement fee when you get it back, which could be between $20 to $200.
Ignition interlock devices (IIDs).
You will also need to install an ignition interlock device in your car, a device that monitors the driver's BAC level. You need to hook it to the ignition of your vehicle. If the device detects alcohol in your breath, the vehicle won't start.

The installation costs of an ignition interlock device can be between $100 to $150. Additionally, you will need to pay $75 a month for the device.
Towing and storage.
As you will likely have to spend time in jail when convicted for a DUI, your car will be towed away and stored in the police compound. Once you get out of jail, you will need to pay between $100 to $1,200 in towing and storage fees to get your vehicle back.
Bail.
When convicted for a first-time DUI, you can apply for bail. DUI bail amount will depend on a number of factors. It may cost you between $150 to $2,500 to post bail and get out of jail.
FREE ONLINE DUI CASE EVALUATION-CLICK!

Call or text 303-332-3602 anytime
Home
END