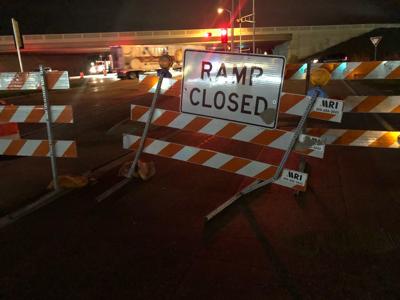 YORKVILLE — A Mount Pleasant woman who reportedly drove through a closed construction zone on Interstate 94 with a flat tire will likely face an OWI charge, according to the Racine County Sheriff's Office.
At 1:43 a.m. Monday, Racine County dispatch received a call reporting that a vehicle with a flat tire was driving south in the closed construction area on I-94 between highways 20 and 11, according to a Racine County Sheriff's Office release.
All southbound lanes of the Interstate were closed at Highway 20 in Racine County at approximately 10 p.m. Sunday to accommodate overnight construction work.
"There were numerous pre-warning signs regarding the closure, as well as traffic barrels and barricades put in place to protect the workers who were present throughout the night," sheriff's officials said.
While deputies were responding, a construction worker on the Interstate called 911 and said the vehicle had turned around and was now traveling north in the southbound lanes of the Interstate.
Deputies arrived on scene and found a silver sedan driving toward their squad cars at a slow speed — approximately 20 mph. The vehicle was reportedly missing a tire and riding on a damaged rim.
Deputies spoke with the driver, 29-year-old Courtney Bronaugh of Mount Pleasant, who said she was driving home from Milwaukee. She said she had to exit the Interstate at Highway 20, due to the closure, and was trying to get back onto the southbound Interstate. She claimed someone told her to get back on the adjacent ramp.PauseCurrent Time0:00/Duration Time0:00Stream TypeLIVELoaded: 0%Progress: 0%0:00Fullscreen00:00Mute
The southbound entrance ramp to the Interstate was closed, with barricades blocking it. Bronaugh drove around the barricades, and struck one that was meant to keep eastbound Highway 20 traffic from entering the Interstate, reportedly significantly damaging it.
While on the Interstate, Bronaugh drove between a work crew vehicle and barricades. She eventually turned around and was later stopped by deputies.
Charges of second offense operating while intoxicated and operating with a prohibited alcohol concentration, as well as hit-and-run on property adjacent to a highway, failure to obey traffic signs in a work area and reckless driving, endangering safety in a work area, have been referred to the Racine District Attorney's Office.
Construction zone diligence
"We would like to remind everyone to be alert to the construction areas and detour signs that are posted," Sheriff Christopher Schmaling said. "They are in place to ensure the safety of the workers present and the motoring public." https://journaltimes.com/news/local/crime-and-courts/mount-pleasant-woman-accused-of-owi-after-driving-in-closed/article_256d7e22-905d-5da6-9d41-389bfd375ff1.html#1
(Visited 31 times, 1 visits today)