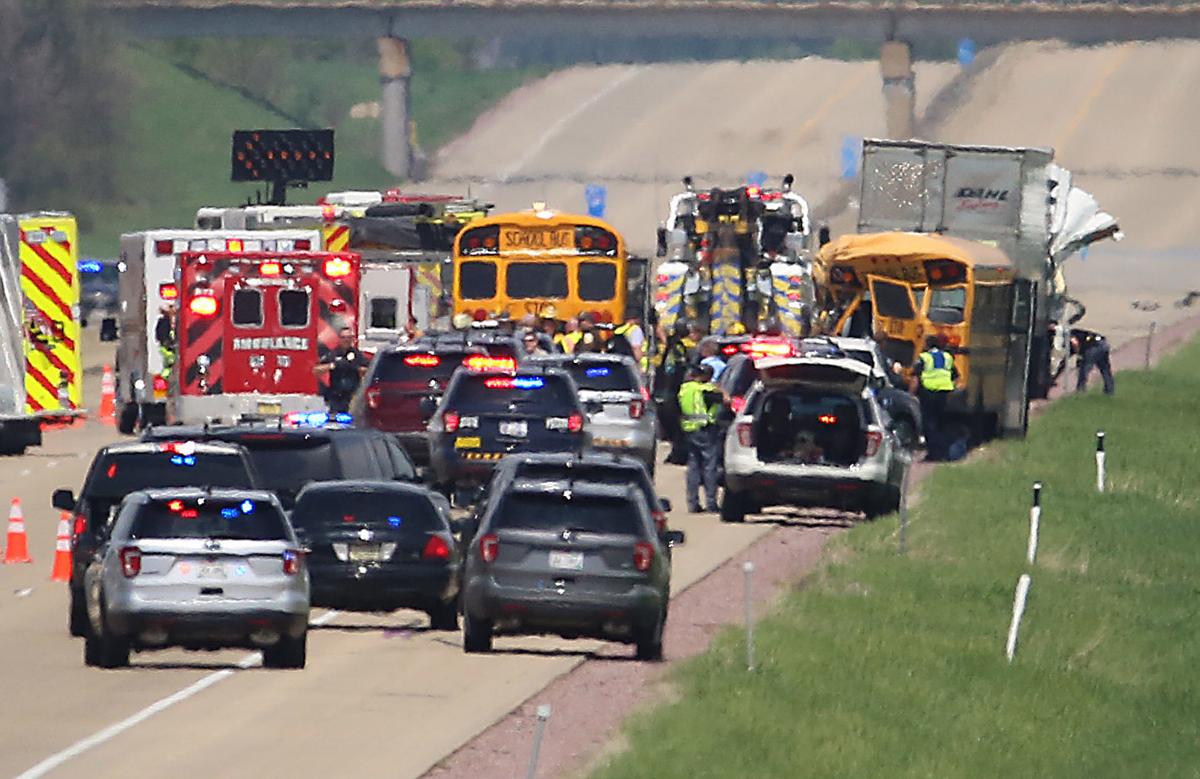 The driver of a semitrailer that crashed into a school bus Wednesday on Interstate 39/90/94 near DeForest injuring 20 people faces tentative charges of operating a vehicle while intoxicated and causing injury by vehicle, a Columbia County official said.
On Thursday, the State Patrol identified the semitrailer driver as 42-year-old Wayne Edward Murphy, of Indianapolis. He was taken to Columbia County Jail, an official said, and has no known prior OWI convictions.
One child remained in critical condition Thursday with injuries that were not considered life-threatening at UW Health's American Family Children's Hospital, UW Health spokeswoman Lisa Brunette said. Another child was listed in good condition at the Children's Hospital, Brunette said.
Eleven other patients from Wednesday's crash were treated at UW Health facilities.
The bus, operated by Lakeside Buses of Wisconsin in Milwaukee, was carrying about 30 people from Hope Christian School in Milwaukee when the driver pulled over on the shoulder near mile marker 122 in Columbia County due to mechanical problems.
The bus was rear-ended by the semitrailer, a 2016 Freightliner Power Unit, around 10:15 a.m. on the northbound side of the Interstate.
Ted Dahl, the owner of Dahl Trucking, which employed Murphy, said he has worked for the company for "quite some time" and that he would be off the road until the investigation is completed.
"At this point in time, all of our thoughts and prayers go to those kids and their parents and families," Dahl said.
Several calls to Hope Christian Schools, which has multiple campuses throughout Milwaukee, were not returned Thursday.
In a Facebook post Wednesday, the school said the students were from the Semper campus and were on a year-end field trip.
The driver of the bus was 51-year-old Yvonne Gayton, of Milwaukee, according to the State Patrol, which initially erroneously named a 67-year-old Madison retiree on Thursday as the driver of the school bus.
Officials from Lakeside Buses said they are working closely with the State Patrol as the investigation into the crash continues.
"We look forward to their speedy recovery and return to HOPE Christian School: Semper for the end of the school year," Lakeside Buses said in a statement.
At SSM Health's Sun Prairie Emergency Center, 11 patients — three adults and eight children — were treated for minor injuries that included scrapes, bruises and broken bones, said SSM Health spokesperson Kim Sveum.
(Visited 50 times, 1 visits today)