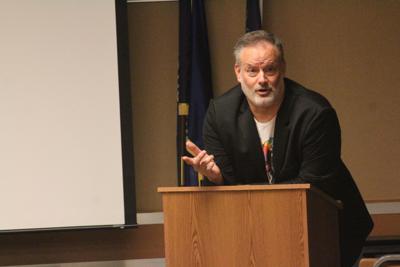 YORKVILLE — Some of the people in the packed conference room last week had graying hair or none at all. Others appeared just barely old enough to legally drink. Few of them were smiling or chatting as they waited. But they all had one thing in common: an OWI charge.
All 30 of them were waiting for an OWI Victim Impact Panel to begin Thursday at Racine County's Ives Grove Office Complex on Washington Avenue. It was the third such event in the last 13 months, sponsored by Racine County-funded JusticePoint Court Alternatives Program.
The night featured four speakers — three of them victims of OWI crashes, one of them a man with seven OWI convictions on his record. Each shared their experiences, hoping to deter those facing criminal charges from making further mistakes.
Sitting in that room, as stories were shared, those in attendance had no option but to listen.
What is this?
JusticePoint Program Director Terra Roberts explained that most of the people in the conference room had pending charges. Still, some had already been convicted, but were referred to the panel by their defense attorneys, hoping that the convicted person's good-faith attendance could lead to a lighter sentence.
Although the victim-impact panel is new here, the format is popular across the country and in surrounding municipalities, Roberts explained.
Roberts used to help run a victim-impact panel in Indiana. When she came to work in Racine County, she said: "We need one" here.
The first Racine County panel was held in February 2018 after receiving county approval the summer before.
"It's important to hear the long-lasting impact they can have on a victim's life," said Racine County Assistant District Attorney Jennifer Tanck-Adams.
Four stories
"My story is probably just a drop in the bucket," Mount Pleasant resident Jackie Brochhausen said.
She's spoken at several events like this. Usually, Brochhausen said that she's joined by family members of victims, since so many victims of OWI crashes haven't survived.
Brochhausen admits that she's lucky. As a junior in high school, a truck crashed into her Mercury Topaz head-on near Lake Geneva 22 years ago. Her first night in the hospital, she said that doctors were explaining to her parents what they planned to do in the morning "if she wakes up" — not "when she wakes up."
She spent the next several months in a wheelchair because three bones in one of her legs were severely broken — more than an inch of her tibia (shin bone) was ripped out of her leg and was never found. Surgeries, and hours upon hours of physical therapy, repaired it.
"It was really hard work just to walk again," she said.
For the driver of the other vehicle, his injuries were less severe than those suffered by Brockenhauser. He ended up serving 3½ years in prison out of a 5-year sentence for OWI. A friend who was in the car with Brockenhauser ended up losing a cross-country scholarship because of the injuries sustained in the crash.
"I'm pretty sure my mother will never forgive this man," Brockenhauser told her attentive audience.
Rob Korhonen and his 26-year-old daughter Stacey Zarda weren't so lucky. He was killed by a drunk driver leaving a car show in July 2017. And Zarda, who has children, suffered irreparable brain injuries. On Thursday, their story was told by Kathleen Rytman, Korhonen's sister-in-law and Zarda's aunt.
The perpetrator, Billie Jo McSherry, received a 15-year sentence last July for homicide by intoxicated use of a vehicle. It was a repeat drunken-driving conviction for McSherry. That bothers Rytman — that McSherry had not learned from past mistakes, leading to the death of Korhonen.
At McSherry's sentencing, Portage County Judge Robert Shannon called her actions "selfish and very reckless," according to media reports.
McSherry has a daughter of her own. Rytman pointed out that that young girl is now an inadvertent victim of the crash, since she won't be able to be raised by her imprisoned mother.
That was one of the emphases of Thursday's event — that the damage caused in OWI crashes has a ripple effect, and isn't contained to those involved in the crash.
Rytman's family has since started advocating for tougher punishments for drunken-driving offenses, particularly first-time OWIs, an endeavor shared by Dan Peterson of Caledonia.
Peterson lost his 31-year-old son in a crash on Father's Day, 2015, caused by a man who was out on probation driving with a blood-alcohol level of .207. The man, Ramone Campbell, 32, was later sentenced to 70 years in prison.
"An accident is an 'oops.' This wasn't an 'oops.' This was an 'I don't give a (expletive)," Peterson said of Campbell's actions. "When you make this kind of mistake, it's permanent."
Peterson's son — James, a 31-year-old Army veteran — left behind children and a wife. Peterson has had to become more present in their lives to fill in the void left by his son's death.
He picks up his grandkids from school often and works as a handyman around their house, "because they don't have a dad to do that," Peterson said.
"Tonight I just want to warn you … to get you to understand," he told the audience.
CARA SPOTO cara.spoto@journaltimes.com
Peterson believes that if OWI punishments were stricter from the outset, then maybe so many Wisconsin drivers wouldn't keep driving while drunk — and then maybe his son would still be alive.
State Rep. Jim Ott, R-Mequon, and state Sen. Alberta Darling, R-River Hills, have proposed making first-time offenses a guaranteed misdemeanor with 30 days in jail and a $500 fine, up from the current maximum of $300 and no guaranteed jail time.
Peterson wants a stiffer punishment, but he thinks it's a start.
"I know in Wisconsin, you get quite a few breaks. I'm working to change that," Peterson said. "We've got to do something."
The other side
Scott Stevens of Burlington is a self-professed alcoholic, although he said he hasn't had a drink in eight years. He's written five books about addiction in that time.
Stevens agreed with Peterson's perspective, saying his first OWI arrest was a "slap on the wrist" and made little impact in changing his actions.
"I was sitting in the same chairs you were sitting in and I could've changed," he said.
Years later, he was arrested four times in six weeks — all related to drinking and driving. He was convicted and became a felon, going to prison twice. He now has been found guilty of OWI seven times in Wisconsin.
"That was not an accident … Those were acts of selfishness," he said. "I didn't physically injure anyone, but I created a lot of victims."
Stevens told the audience that "you are not the victim," that he believes their punishments are well deserved and nothing to feel pity about. He implored listeners to give credence to the stories shared by the other speakers. Stevens didn't do that years ago, leading him further into drinking before getting sober.
"If these stories didn't impact you," he said, "then you have no soul."
"An accident is an 'oops.' This wasn't an 'oops.' This was an 'I don't give a (expletive) … when you make this kind of mistake, it's permanent." Dan Peterson, whose son died in a drunken-driving crash. https://journaltimes.com/news/local/owi-victim-impact-panel-breaking-through-to-drunken-drivers/article_1bcdd089-043d-5e32-afcc-3cbe6853cd0b.html
(Visited 34 times, 1 visits today)