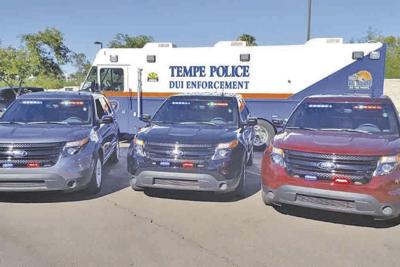 Police tactics are changing amid the COVID-19 pandemic, but the East Valley DUI Task Force will return during the holiday season with the same goal of promoting public safety by busting as many impaired drivers as possible.
Throughout Arizona, driving under the influence arrests are down 10-15 percent this year, but East Valley agencies report the opposite trend, with Gilbert police arrests increasing 31 percent from a year ago and Chandler police also reporting an increase.
Mesa and Scottsdale police report little change from a year ago, with drivers still drinking or using drugs before getting behind the wheel – apparently more from imbibing at home or private social gatherings.
"Overall, our numbers are down slightly from last year. However, our crashes involving impaired drivers have remained at a similar level,'' said Sgt. Ben Hoster, a Scottsdale police spokesman. "This is still significant because of how nightlife has been impacted.
"Across the Valley, we are seeing a noticeable amount of people driving impaired that are not coming from the establishments impacted by the pandemic.''
Mesa police Officer George Chwe, a state instructor in DUI investigations, said the problem can be traced to substance abuse and addiction.
"A lot of old habits are coming back,'' Chwe said, with people who have suffered from substance abuse in the past likely backsliding under the pressure of losing their jobs and sustaining other setbacks during the pandemic.
"I think impaired driving and substance abuse will be a huge factor,'' he said, as the nation mobilizes to defeat the pandemic and return to a sense of normalcy.
"We're just changing our tactics, but it's business as usual,'' Chwe said. "We're doing it in a COVID-prevention manner.''
Chwe said the entire point is to prevent needless fatalities and deter high-risk behavior that can have a deadly consequence for innocent people on the road.
"People do make mistakes. We would rather catch them before they make a tremendous mistake, killing someone,'' he said.
Alberto Gutier, director of the Governor's Office of Highway Safety, said police are changing tactics to avoid either contracting COVID-19 from each other or from suspects during traffic stops or at mobile testing and booking stations.
"We have to be very careful. No briefings with 50 people in a room,'' Gutier said.
He said the safety protocols will help protect officers and suspects alike by promoting social distancing, with maybe one suspect being booked at a time in a command van, while the others wait outside.
Other holiday enforcement campaigns this year, during the July 3 holiday and Labor Day, have followed similar practices.
Gutier anticipates that arrests statewide from the holiday enforcement campaigns will probably drop 10-15 percent from this time last year.
He canceled his yearly Thanksgiving rally against DUI at the State Capitol, where police from around the state would gather in a show of force to publicize their campaign, which is largely funded by federal highway safety grants.
Instead, police agencies will either work on their own, or form smaller, regional partnerships to carry out the campaign between Thanksgiving and New Year's Day, he said.
Barring an extreme flare-up of COVID-19, the East Valley task force has been divided into north and south divisions.
Mesa, Gilbert and Chandler will form the south division, while Tempe, Scottsdale, the state Department of Public Safety, the Maricopa County Sheriff's Office, the Arizona State University police and the Salt River Pima-Maricopa tribal police form the northern contingent.
Hoster said the two divisions also cut down on travel time, allowing officers to focus more on DUI enforcement.
"Each of the respective cities have grown up enough that they need their traffic units working in their own city at night,'' he wrote. "Eliminating the drive time, for example, between Scottsdale and Gilbert allows more time for officers to focus on enforcement.''
Brenda Carrasco, spokeswoman for the Gilbert police, said the plan is to use a somewhat scaled-down approach featuring six nights of enforcement during the holiday period.
The task force would rotate their enforcement efforts among the three cities, hitting Gilbert one night and Chandler or Mesa the next, she said.
"We have seen a 31 percent increase in DUI arrests. We have had our traffic units go out three nights a week,'' Carrasco said, adding that all Gilbert patrol officers are vigilant about spotting possibly impaired drivers.
"When you can take people off the road who are endangering others, you want to do that,'' she said, adding, "we don't have a specific answer as to why'' arrests have increased.
Gilbert's DUI arrests have increased to 1,092 between January and October 2020, from 832 during the same period in 2019, Carrasco said.
Detective Zachary Waters, a Chandler police spokesman, said traffic officers have noted an uptick as well and his department is planning saturation patrols throughout the holidays.
"We just want to keep impaired drivers off the roadways,'' Waters said. "We think people still continue to drive under the influence of drugs and alcohol. We believe the task force is still important.'' https://www.ahwatukee.com/news/article_31cb4fae-2e76-11eb-8015-ff0c4df48a07.html
(Visited 1 times, 1 visits today)