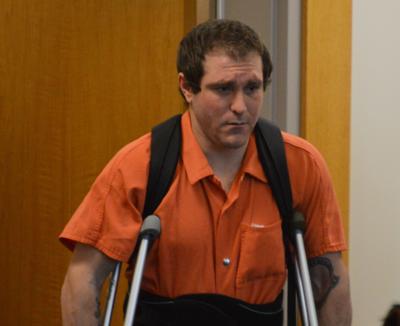 BRENTWOOD — A Derry man with two prior DUI convictions is facing new charges alleging he was drunk and under the influence of marijuana when he drove in the wrong direction on Route 101 in Epping and caused a head-on crash that killed a retired Massachusetts police sergeant and his wife.
Ryan Kittredge, 31, was indicted this month on felony manslaughter and negligent homicide charges that, for the first time, accuse him of being impaired by alcohol and marijuana when he allegedly made a U-turn, drove eastbound in the westbound lane, and struck John and Heidi Johnson shortly before midnight on Jan. 10.
Kittredge has waived formal arraignment in Rockingham County Superior Court and pleaded not guilty to the two negligent homicide and two manslaughter charges.
He has also pleaded not guilty to four counts of felony reckless conduct with a deadly weapon and a misdemeanor charge of driving under the influence of drugs/liquor and driving with excess alcohol concentration.
Kittredge, who suffered two fractured vertebrae and a laceration to his knee in the crash, has remained held without bail at the Rockingham County jail after a judge ruled that he posed a threat to public safety.
A bail hearing was slated for Friday, but was rescheduled for June 7.
Authorities have said 58-year-old John Johnson, a retired sergeant from the Townsend, Mass., Police Department, and his wife, Heidi, 57, were traveling westbound in a 2008 Chevrolet Impala when they were hit head-on by Kittredge's 1998 Dodge 1500 pickup truck.
The indictments allege that Kittredge was headed westbound when he quickly decelerated, turned the vehicle around within the two westbound lanes, and then accelerated in the wrong direction.
A third vehicle also was involved in the collision, but the driver wasn't seriously hurt.
The Johnsons, who lived in New Ipswich, were heading home after watching their great-niece's basketball game in Maine earlier in the day, according to State Police.
John Johnson spent nearly 40 years at the Townsend, Mass., Police Department before retiring last July. https://www.unionleader.com/news/crime/new-charges-allege-derry-man-charged-in-double-fatal-was/article_a76870b2-0131-52b5-bcf3-70aa2885cd02.html
(Visited 29 times, 1 visits today)