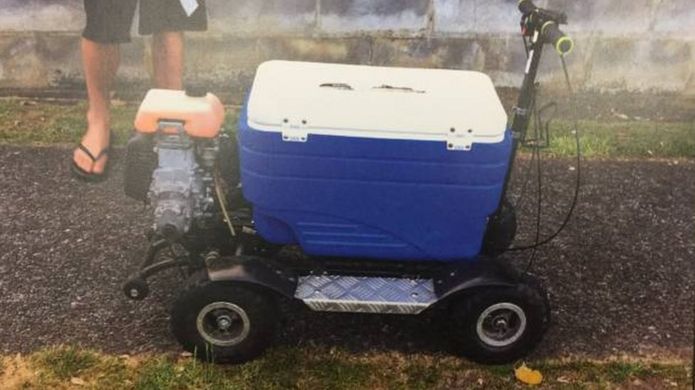 A man has been fined in New Zealand for driving under the influence of alcohol on a motorised cool box, it's reported.
According to the Stuff.co.nz news website, Lani Hunt admitted drinking and driving after being stopped by police riding a motorised drink cooler.
Police stopped Mr Hunt after they spotted him driving the petrol-powered chilly bin down a road in North Island city of New Plymouth, the website reports.
He pleaded guilty at the New Plymouth District Court on 15 February and was fined NZ$500 (US$370; £263). He was given no driving disqualification for his antics.
Mr Hunt is not the first person to have been stopped by the police for being intoxicated while driving a ride-on cooler.
In August 2011, Christopher Petrie made national headlines in Australia after he was caught driving one under the influence without a licence. He was given a nine-month driving suspension and was fined AU$300 (US$240; £170).
Police in both Australia and New Zealand are urging people not to drive the coolers, which can reach speeds of 18mph (28kph) and are illegal on the roads in both countries.
After another incident in the town of Camden in New South Wales on Australia Day (26 January), police told Sydney's Daily Telegraph that while the scooters may look fun, they're too small to be seen by other road users.
https://www.bbc.com/news/amp/blogs-news-from-elsewhere-43072501
(Visited 43 times, 1 visits today)