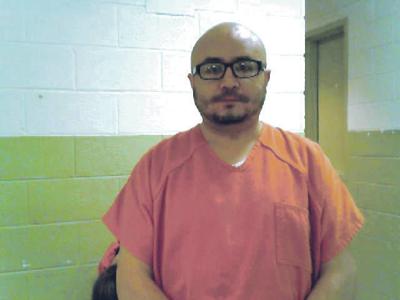 A lobbyist representing Rio Arriba County at the Legislature is facing a charge of aggravated drunken driving following an arrest last month in Española.
Eric Martinez, 34, a contract lobbyist with the county and several other clients, insisted Tuesday that he was not drunk Jan. 20 when he was stopped by Española police.
"It was the first week of the Legislature, and I'd been working 16-hour days," he said in an interview. "I was just wanting to get home, and I was tired."
He said the officer who stopped him was "very courteous and professional." Martinez declined to take a breath test, he said, because he was so tired.
Under New Mexico state law, refusing to take a breath test is grounds for a charge of aggravated DWI. That charge also applies to those whose breath test indicates a blood-alcohol content of 0.16 percent or more.
A person also may be charged with aggravated DWI in the case of an accident believed to be related to alcohol use.
Martinez said his lawyer advised him not to give more information about his arrest.
The state Motor Vehicle Division has scheduled an administrative hearing for Martinez on March 7 to determine whether he should have his driver's license suspended. However, Martinez said, he's asked for an extension because the Legislature will still be in session on that date.
More than three weeks after his arrest, Martinez does not yet have a hearing scheduled in state District Court for the criminal charge. District Attorney Marco Serna didn't return phone calls Tuesday to explain why Martinez has not yet been arraigned.
Martinez has at least one previous conviction on his record for aggravated drunken driving.
In New Mexico, the mandatory minimum jail time for a first-time aggravated DWI is 48 hours. For a second conviction, the minimum time goes up to 96 hours. A third conviction carries a mandatory penalty of 60 days in jail. These sentences are in addition to the sentences for the base drunken-driving charge.
In May 2012, Martinez was arrested in Santa Fe County on aggravated DWI. He was found guilty seven months later in Santa Fe County Magistrate Court. He said Tuesday that the MVD did not take his license following that incident.
Asked whether he thinks he might have a drinking problem in light of the two aggravated DWI arrests, Martinez said, "Absolutely not. I refused the test [in January] for a very good reason. … I was too tired to take the test." http://www.santafenewmexican.com/news/local_news/lobbyist-accused-of-aggravated-dwi-said-he-was-too-tired/article_57c7cc58-c967-5136-a16e-93704b259975.html
(Visited 39 times, 1 visits today)