Colorado Drunk Driving Defense & License Information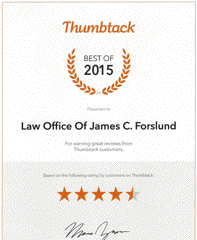 JAMES C. FORSLUND, Attorney at Law
Englewood Law Bldg.
3780 South Broadway, Englewood, CO 80113
Telephone: (303) 761-6067, FAX: 303-672-6815


Appointments to fit your schedule. Weekends and early morning. Calls returned promptly.

Voicemail notifications are sent to my cell phone 24/7.
Who is Jim Forslund?
He was a member in good standing with the National College of DUI Defense, 1997-2006. He is a founding member of The DUI Defense Lawyers Association.
He holds the highest learning honors (a Phi Beta Kappa Key) from the University of Colorado at Boulder, with a degree with Distinction in Mathematics.
In addition to his law degree (Juris Doctor), he also has a Masters of Divinity) from the Iliff School of Theology, Denver.
He has been helping people save their licensees and their freedom for over 18 years.
He is admitted to practice before both Colorado and the Federal Courts and is a member of the Colorado Criminal Defense Bar.
He was in the Army Security Agency, receiving extensive training in electronics, and held two security clearances. He spent 21 month at the 177th ASA Company in Korea.
He spends over 20 hours per month researching the latest cases, legal treatises, scientific literature, and articles on the subject of drunk driving defense allowing him to be on the cutting edge of DUI defense at all times..
He graduated from the University of Denver Law School in 1979 and was admitted to the Colorado Bar in that same year. Many attorneys must take the bar exam more than one time to pass
He has never been disciplined by the State Bar.
He is doggedly independent, and believes in challenging everything for his clients' defense to be successful.
As a matter of course, he is ready to fight your case by bombarding the District Attorney with extensive pre-trial motions, demonstrative evidence, photographs, witness testimony, videos, defense experts, essential cross-examination of the prosecution's witnesses, and, of course, your testimony.
Clients come from across Colorado and from other states to retain his services.
DUI Help Member
If having your license and your freedom play a large part in your life, call 303-761-6067 now for your appointment.
Fee Info