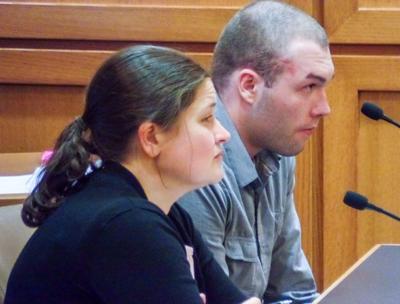 A Madison man who killed another driver while driving under the influence of LSD last year was sentenced Monday to 10 years in prison after a serious tongue-lashing from a Dane County judge who said he saw no sign of remorse from the man.
Dane County Circuit Judge William Hanrahan also sentenced Gavin Veium, 22, to five years of extended supervision for the June 23 crash on John Nolen Drive that killed Diano McCullough, 45, of Madison.
Veium's sentencing hearing began with seven members of McCullough's family, including his life partner and his mother, telling Hanrahan how McCullough's high character and positive energy have been missed by his 8-year-old son and an extended family that includes nieces, nephews and cousins.
The hearing ended with Hanrahan telling Veium that his lack of character was a significant factor in his long prison sentence. Hanrahan said Veium's character issues were most evident when he broke conditions of his bail on several occasions, including one time that led to the revocation of Veium's bail.
On that occasion, Veium, who was under an order to consume no alcohol, flunked a remote alcohol check. Veium blamed it on eating a lot of tiramisu just before the test. He said at the time that he was unaware the dessert contains rum.
Hanrahan told Veium, who kept his head bowed through most of the hearing, that he was hoping to see him show remorse and take some steps toward making a positive change in his life after the crash.
"What I got was a guy who didn't give a damn," Hanrahan said. "I wanted to find out what I was dealing with and I got my answer."
According to a criminal complaint, Veium's Mercury Marquis was traveling around 60 mph when it crashed into the back of McCullough's SUV, which was stopped at a red light on John Nolen Drive around 3:35 a.m. on June 23. The SUV caught fire after the impact lifted it off the ground and pushed it into a traffic standard near South Blair Street, a witness told police.
The SUV was ablaze when police arrived. McCullough was dead at the scene. An autopsy found that he died of inhalation of burning materials and burn injuries, along with blunt force trauma.
The complaint states Veium admitted later to a nurse at UW Hospital that he had taken the psychedelic drug LSD. Assistant District Attorney William Brown said Veium had also used marijuana.
Brown called the crash the worst impaired-driving homicide he has ever seen. He asked Hanrahan to sentence Veium to 10 years in prison and 10 years of extended supervision.
McCullough died when his SUV "blew up and burned with him inside," Brown said. "The amount of suffering this man had to endure because of the selfish, negligent actions of another is simply astonishing."
Veium's lawyer, Laura Breun, asked Hanrahan to sentence Veium to three years in prison and three years of extended supervision. She said Veium, who had a difficult upbringing, is a first-time offender and a presentence investigation found no signs of anti-social or criminal behavior. She also told Hanrahan that it wasn't long ago that a case like this would end with no prison time because the crime wasn't premeditated and showed no malice.
Hanrahan agreed the crime wasn't premeditated. He said Veium never would have gotten into the car if he thought it would lead to killing someone in a crash.
"You just weren't thinking," Hanrahan told Veium.
After the hearing, Dane County District Attorney Ismael Ozanne said that isn't uncommon among impaired drivers. That's why more education is needed to teach young drivers to think before they drive, he said.
"What we are seeing is that people who do get into these accidents, this isn't the first time they've driven under the influence," he said. "What we see with alcohol use is their inhibitions are lowered and they start thinking about, 'Well, am I going to get caught?' They don't think they are that bad until the tragedy occurs."
Ozanne said Veium's sentence is a sign of the times.
"I think there has been a consistent shift over time where people are starting to get tired of people losing their lives senselessly on our roads," he said.
Just before he was sentenced, Veium told Hanrahan, "I know I have no right to ask for forgiveness. I'm truly sorry for this."
Hanrahan praised McCullough's family members, some of whom had forgiven Veium earlier in the hearing. The judge said McCullough's spirit lives on through them. https://madison.com/news/local/crime-and-courts/lsd-impaired-man-who-killed-another-driver-in-crash-gets/article_94c6dfa5-0582-557b-8709-7706454ab4ef.html
(Visited 9 times, 1 visits today)