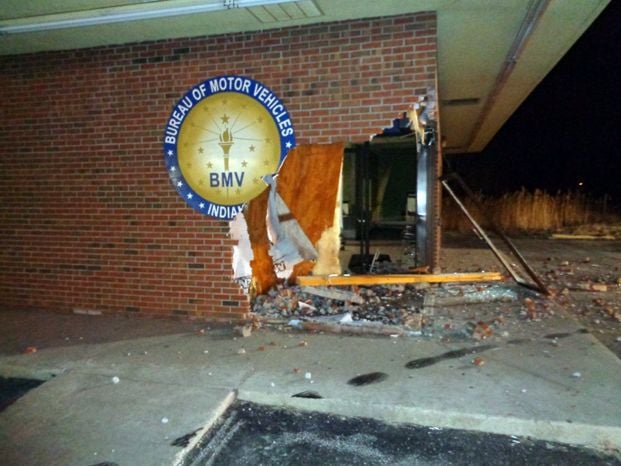 TRAIL CREEK — Several hours after a pickup truck punched a large hole in the Indiana Bureau of Motor Vehicles branch, it was business as usual Friday.
Nicholas Judge, 25, of Trail Creek, was arrested on two counts of operating while intoxicated.
According to Trail Creek police, officers responding about 3:30 a.m. to a burglar alarm at the license branch, 1724 E. U.S. 20, in the Evergreen Plaza, found a pickup truck had gone through a brick wall at the southeast corner of the building.
Judge had just left Decoy's Neighborhood Bar & Grill a few hundred feet away on the other side of the parking lot, said Don Gardner, who owns the establishment.
According to police, Judge said he was going home when the accelerator stuck to the floorboard.
He slammed into the building and a car before coming to a stop, police said.
Gardner said the car belonged to one of his bartenders.
"He took a good chunk out of the car, too," Gardner said.
Judge was booked at LaPorte County Jail on charges of operating while intoxicated. He had a 0.15 blood alcohol content, police said.
(Visited 24 times, 1 visits today)