'I have dedicated my career to upholding the law, and trying to make a positive difference in the world. Unfortunately, I'm human and have made a terrible error in judgment that I must accept the responsibility and the punishment for.'Author: WKYC StaffPublished: 8:04 AM EST February 15, 2019Updated: 9:29 AM EST February 15, 2019
KENT, Ohio — Portage County Common Pleas Judge Becky Doherty found herself on the other side of the gavel Friday morning as she pleaded guilty to operating a vehicle while under the influence of alcohol.
Before the judge issued sentencing, Doherty offered the following statement: "I do apologize to the court, to the residents of Portage County, to the Brimfield Police Department. I did make a serious error in judgment. I am humbled by this experience."
The sentencing judge took into account this was Doherty's first-offense OVI when handing down the punishment as follows:
She was given a fine of $1,075 and 180 days in the Portage County Jail, but the judge suspended $700 of the fine and 177 days of the jail sentence if she meets the following requirements:
– No alcohol or drug-related offense for two years.
– Complete a 72-hour DIP school within 90 days and follow their recommendations.
You can watch the full court hearing HERE: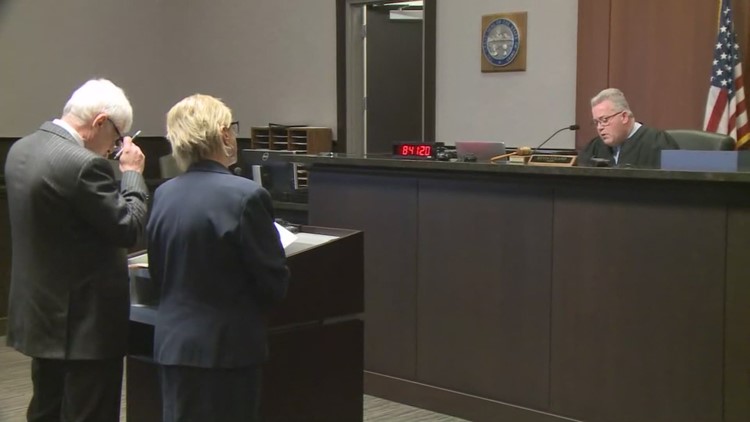 Doherty was given 10 days with no driving privileges before she can apply to drive for work, medical appointments, the DIP program and four hours per week "for necessities."Sign up for the daily Top 3 NewsletterThis email will be delivered to your inbox once a day in the morning.
Submit
Following the court hearing, Doherty briefly spoke with reporters.
"I have felt so blessed to be in a position of trust, and I regret that I violated that trust. I have dedicated my career to upholding the law, and trying to make a positive difference in the world. Unfortunately, I'm human and have made a terrible error in judgment that I must accept the responsibility and the punishment for. Today, I plead guilty to the charge of operating a vehicle while under the influence of alcohol in Kent Municipal Court. As a judge, I make decisions every day that I pray will be the most thoughtful and fair for all concerned. I am humbled by, and will learn from this experience. I'm confident that it will make me a better judge and resident of our community."
According to the Record-Courier, Doherty was found Sunday night after she drove an SUV off the side of the road an into a ditch on Route 43. https://www.wkyc.com/article/news/local/portage-county/portage-county-judge-becky-doherty-pleads-guilty-to-ovi-i-did-make-a-serious-error-in-judgment/95-09038161-edfc-4da4-8466-12676f00531d
(Visited 13 times, 1 visits today)